Spring is the perfect time to freshen up your bedding! Whether you purchase a new duvet cover or simply top off your bed with a colorful throw pillow, an eye-catching pattern can bring your sleeping space to life. This season, a lot of the patterns are large, bold and playful. In other words, it's easy to make a big statement, thanks to the wide variety of geometric and abstract spring bedding options available. Here are some of our very favorites…
Whimsical Design from Feliz
We're currently crazy for the laid-back, playful patterns offered by . This Australia-based brand uses organic and sustainably produced fabrics, as well as water-based inks. Below we see a vignette featuring  bedding. Dusty pink and gold make a big impact without hitting you over the head. We're loving the mix of modern and Memphis-Milano: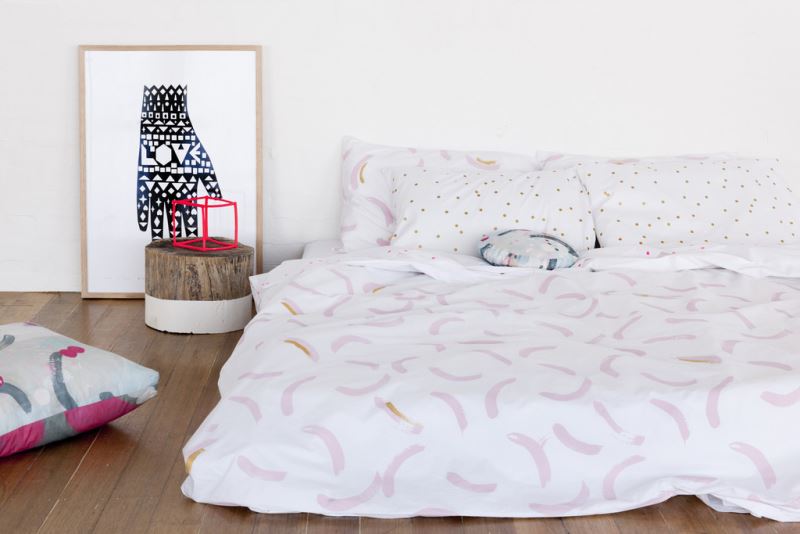 If you're more into blue than pink, check out , screen printed on organic grey cotton: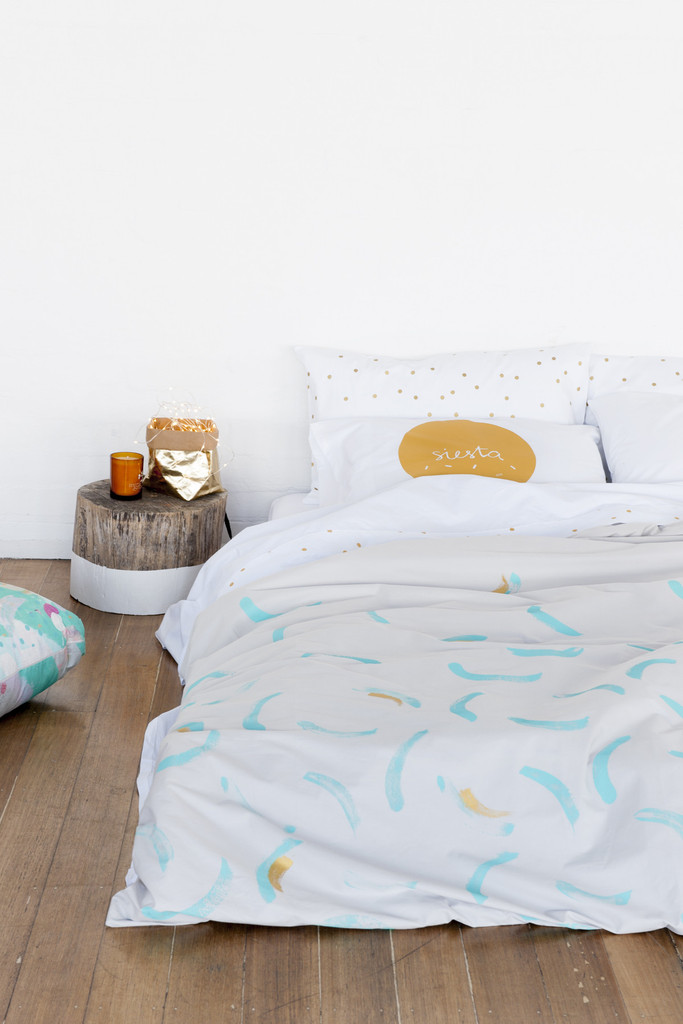 From curves to dots…Feliz's  features a confetti-style pattern on organic grey cotton, but you can also order the pattern printed on white. (Not to mention, the design is available with charcoal dots rather than the fluorescent pink variety).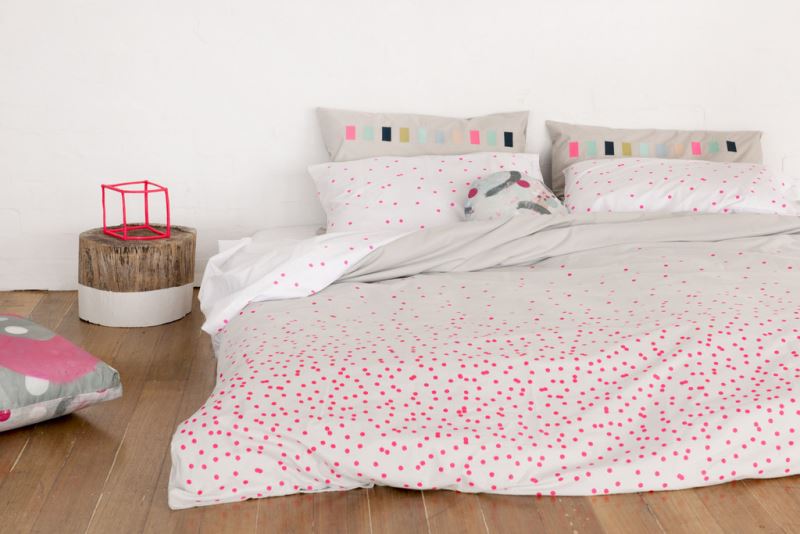 is the brand's embroidered bedding featuring white or grey cotton and a range of vibrant rectangles. In true Feliz form, the design is eye-catching and commanding while still maintaining a fresh, clean look. Add the fact that organic, non-toxic materials are used to create an array of gorgeous products, and it's no wonder Feliz is making a splash this spring!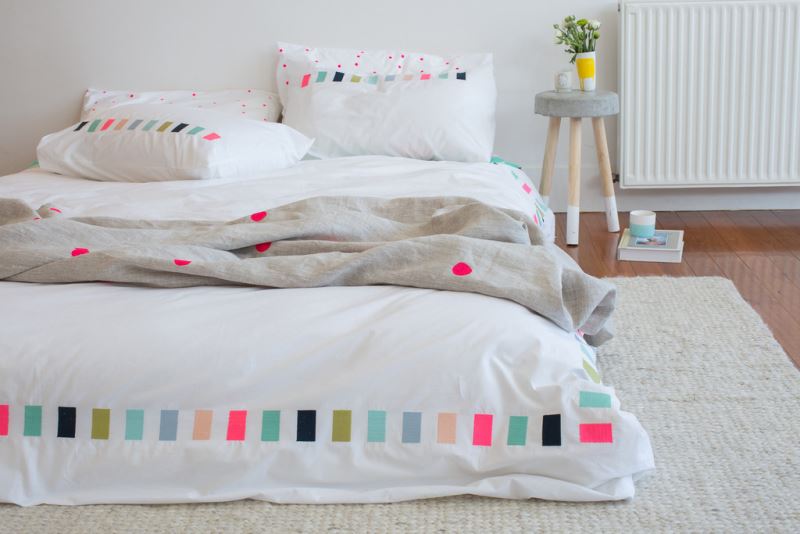 Geometric Flair from Dusen Dusen
Black and white reign at , as do bold pops of color. Launched in 2010 by Ellen Van Dusen, this Brooklyn-based brand has a fine art feel that is both on-trend and unique. Originally offering a line of womenswear, the brand expanded in 2015 to include Dusen Dusen Home, which includes towels, pillows, blankets, and of course, bedding!…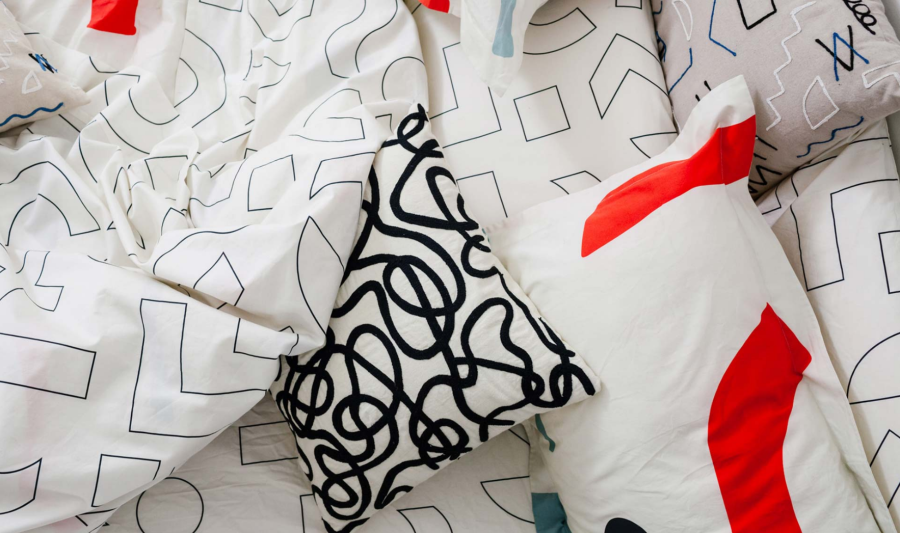 Although currently sold out, the  (shown below) features geometry in the form of zigzags, semicircles, dots, dashes, squiggles and more! The duvet and sham set is shown here with the  and :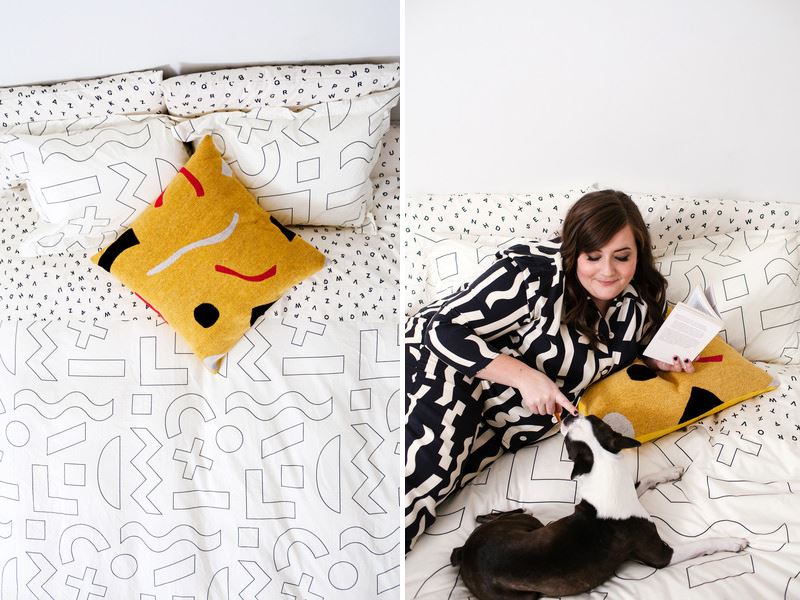 And if you're liking the idea of being surrounded by letters, you'll love the , which is simple yet powerful with its black lettering on a white backdrop. Can we just say that we're loving this product photography featuring actress and comedian Aidy Bryant?!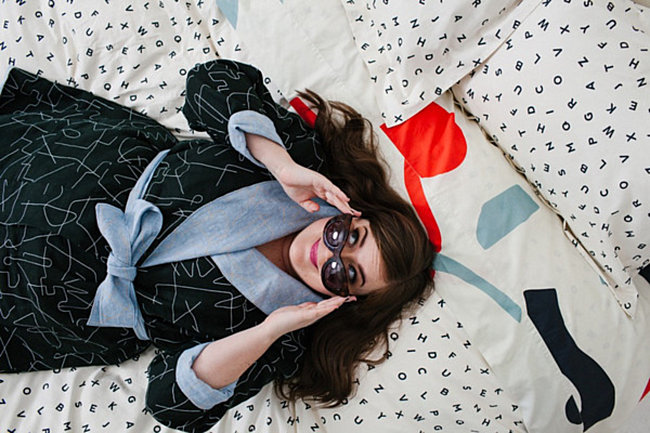 Dusen Dusen bedding is also packaged creatively, as shown by the fabric bag below. Also seen: the , which includes a duvet cover and two shams (or one sham if you order the twin set). White, black, slate and red make a vibrant appearance on 100% cotton percale. This popular bedding sold out but is expected back in stock in June!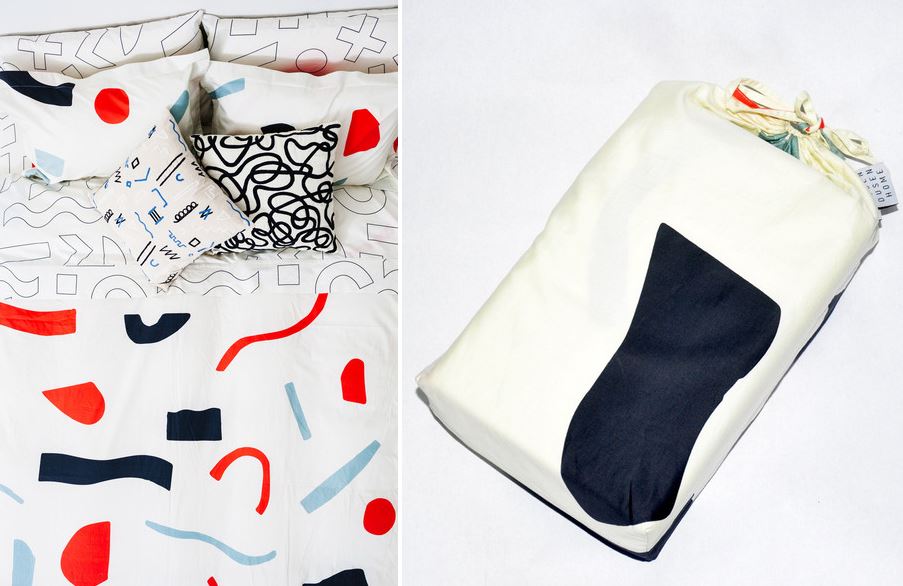 Hip Patterns from Urban Outfitters
When it comes to large brands offering on-trend bedding,  consistently leads the way with its edgy patterns. Below we see the , featuring a pattern of lines designed by Elizabeth Eadie: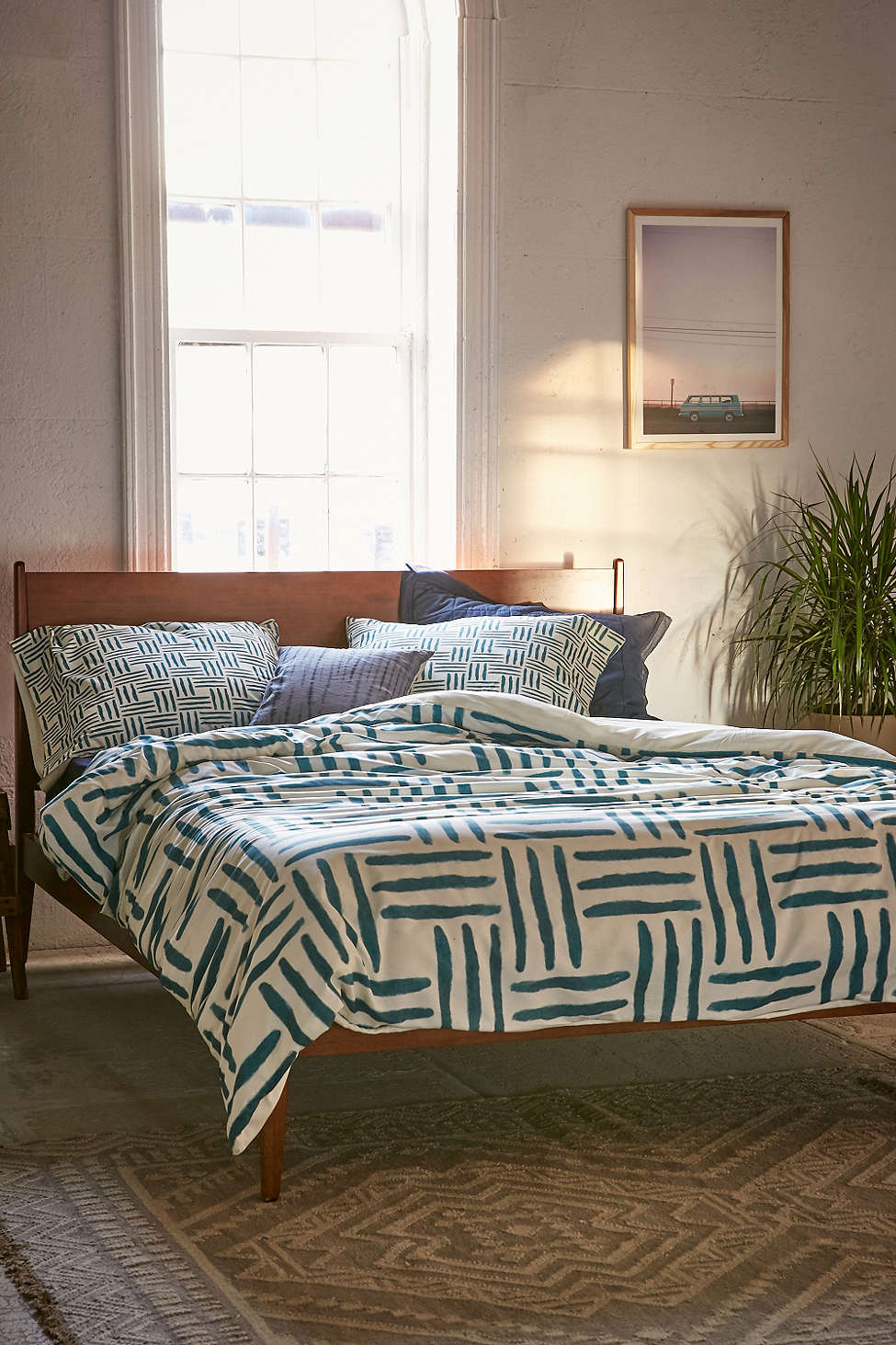 With a soft brushstroke feel, the  is another fresh creation, this time offering a watercolor-style look. DENY Designs features a rotating collective of artists, and Paraschiv is the perfect addition, as her work is modern yet timeless.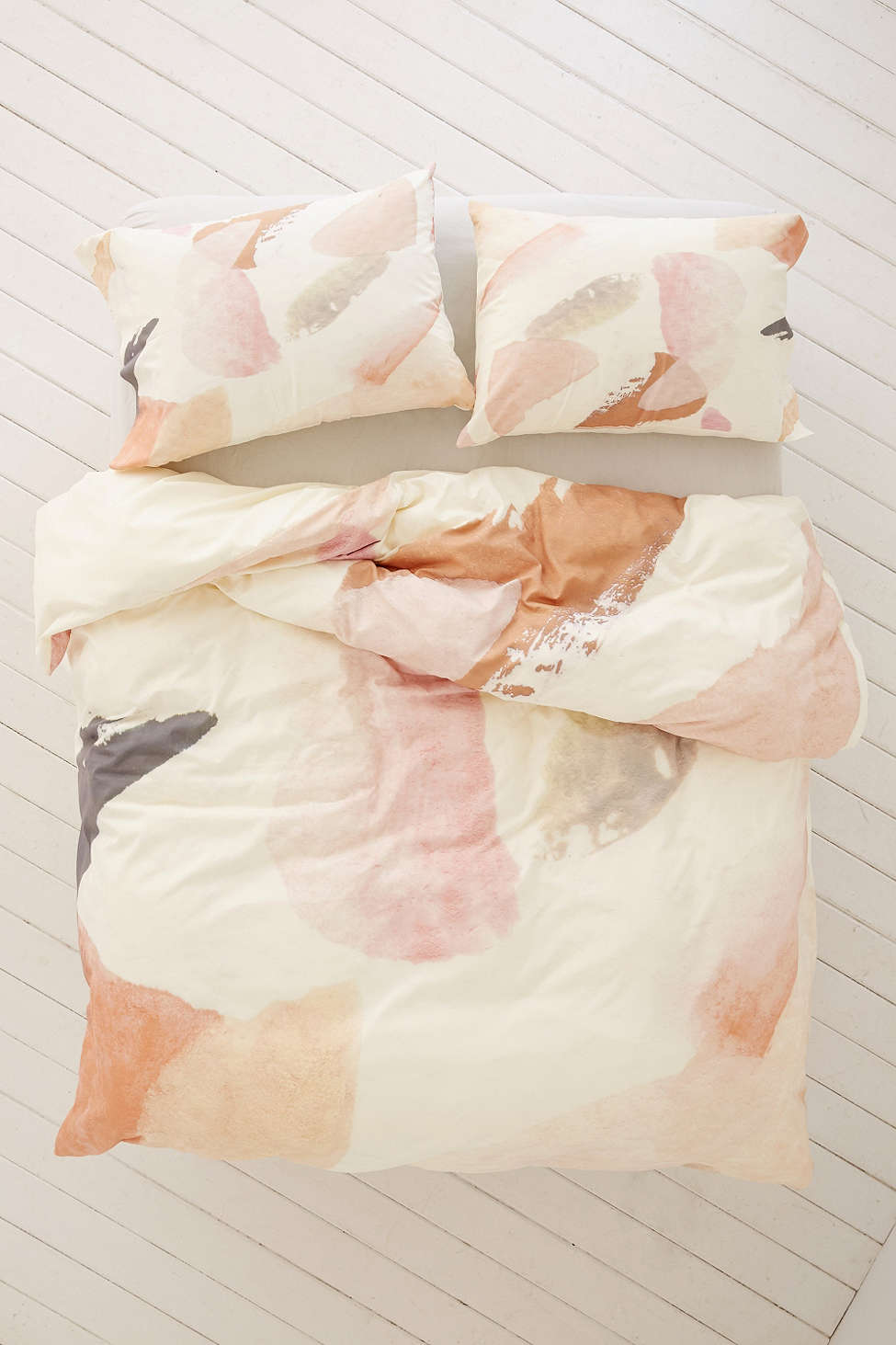 Bold lines and geometric forms decorate the , crafted from soft, durable poly fabric. The look is tribal and modern: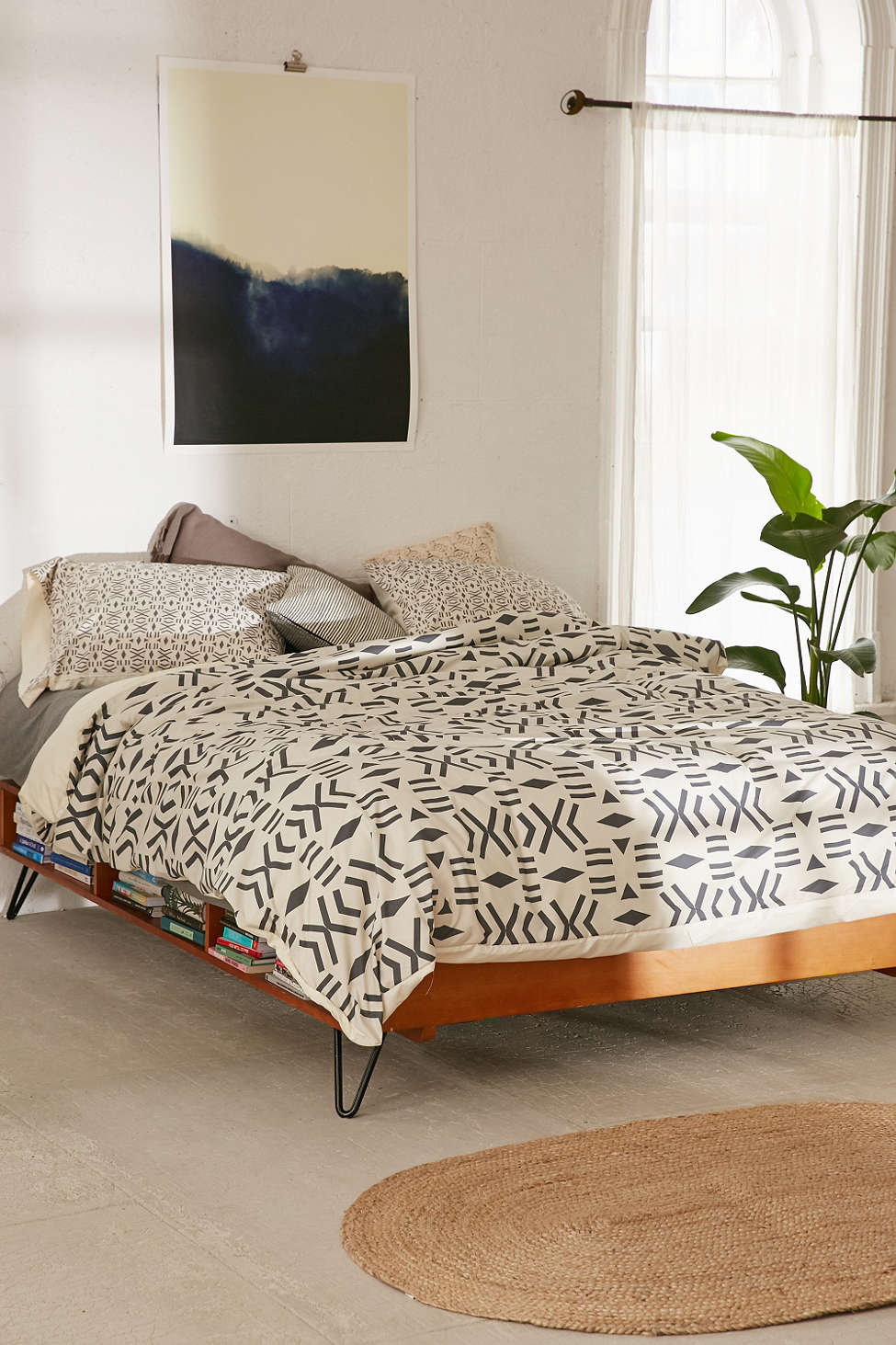 For a fun dose of chic style, check out the , made from soft cotton. Both abstract in its feel yet realistic in its marble-inspired print, the duvet cover will blend with the bedroom color scheme of your choice: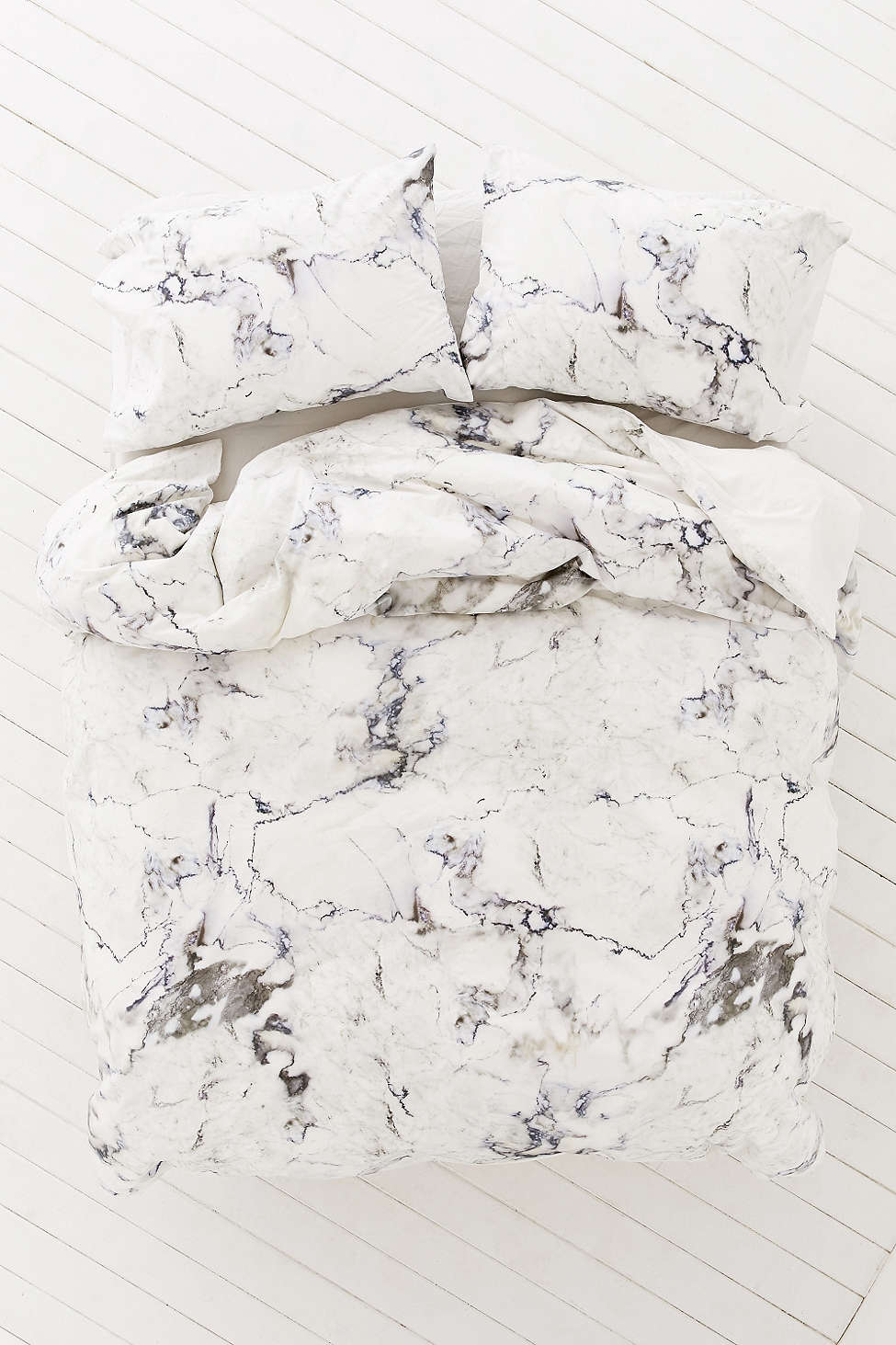 Abstract Style from West Elm
Oh , how we love your abstract patterns and crisp, organic bedding! The watercolor look is going strong this season, especially with bedding selections like this  set: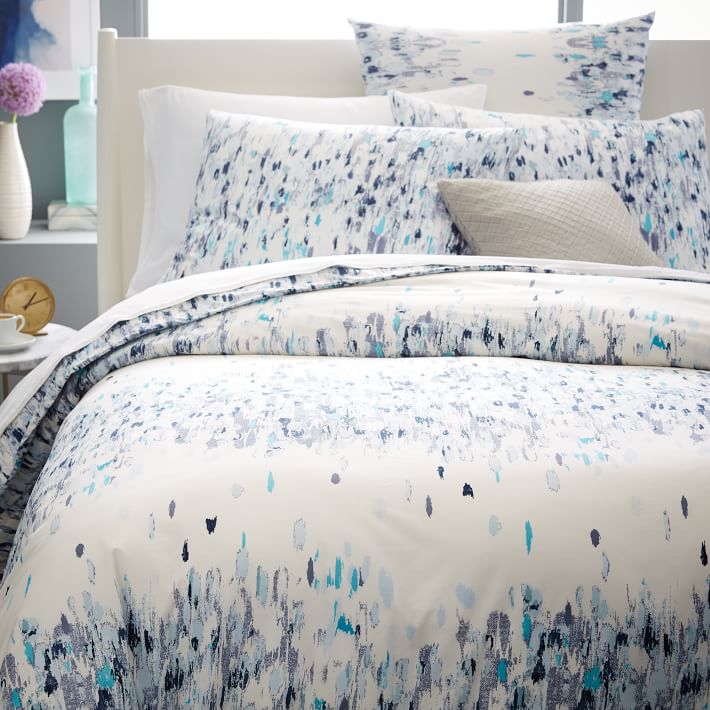 The brusthstroke-style pattern above was once available in ivory (shown below), but you can still purchase the shams in this color palette for a quick update to your sleeping space.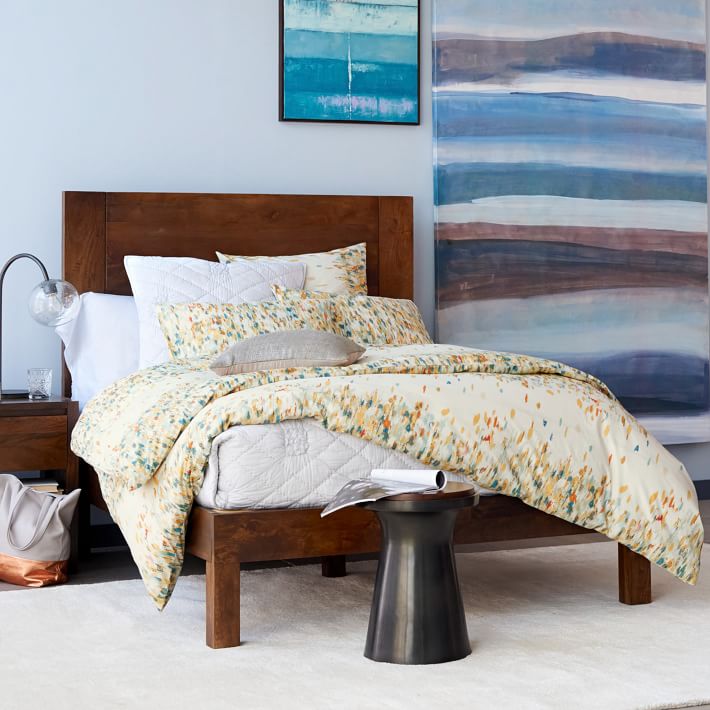 As pretty as an abstract painting… Shades of pink and yellow grace the  set, featuring 100% organic cotton sateen. Wall art meets bedding: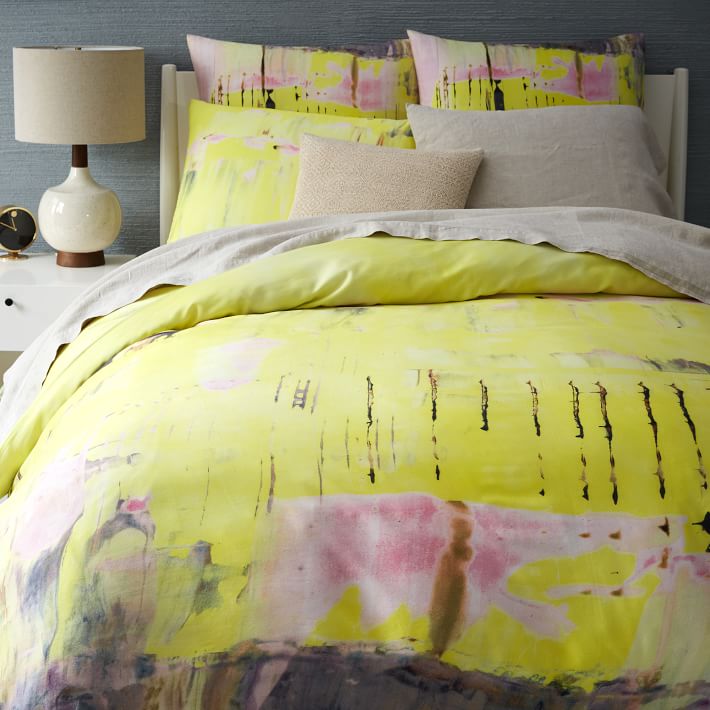 And for a soothing dose of vibrancy, check out this  set, which is digitally printed onto organic cotton for a more vivid color experience: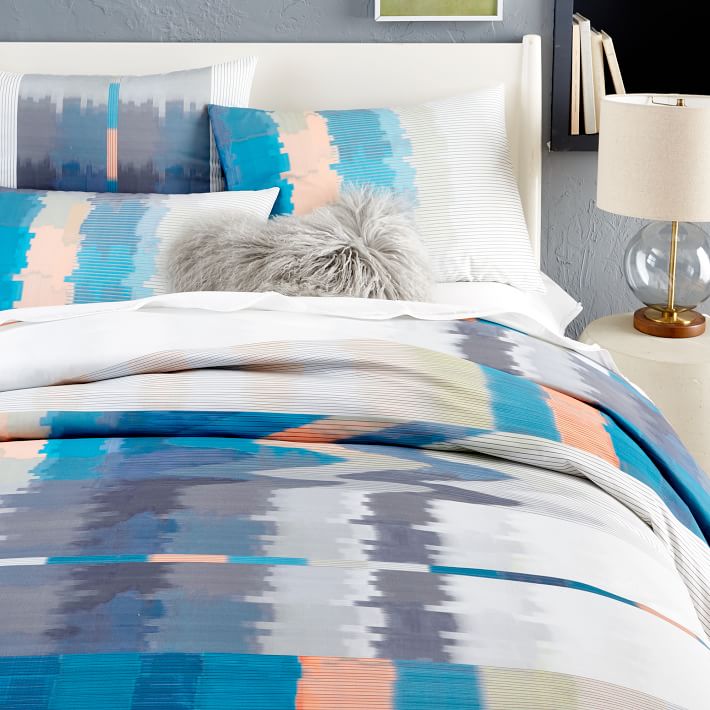 Kids' Bedding from The Land of Nod
We end today's post by sharing a few of our children's bedding favorites from . Good news for grown-ups: These designs also come in the full/queen size. In case you're a kid at heart who wants to add a fun, bold pattern to your sleeping space! First up: the , featuring an abstract design by Jenny Pennywood: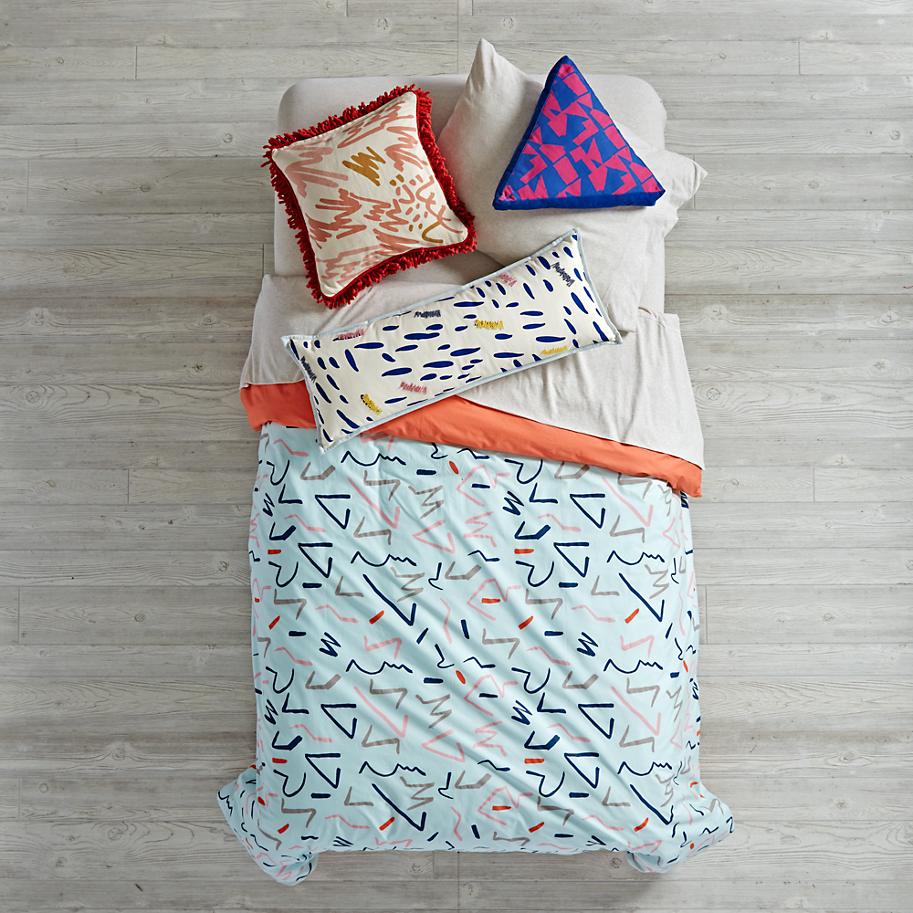 Pastels meet hand-drawn style in this , designed by Joy Cho of Oh Joy! Hearts and diamonds and circles, oh my!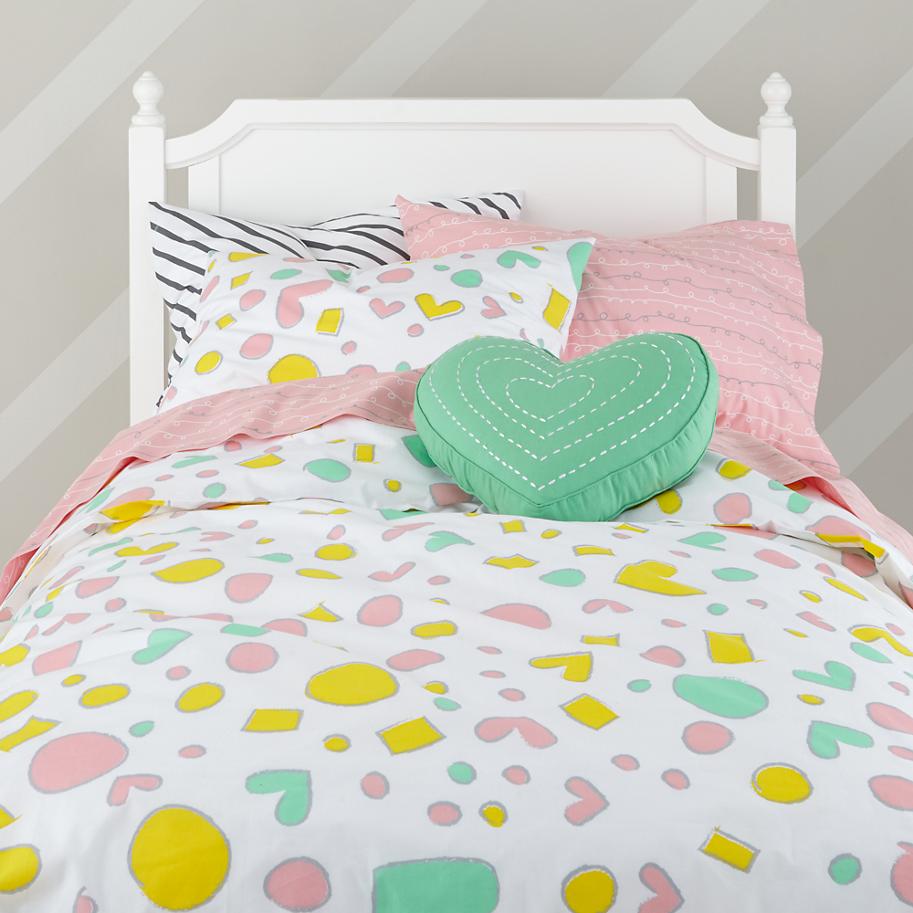 Add a touch of '80s flair with this . Created by Ampersand Design Studio, the retro-style pattern features a grid, as well as an array of colorful forms that create a fun, playful feel: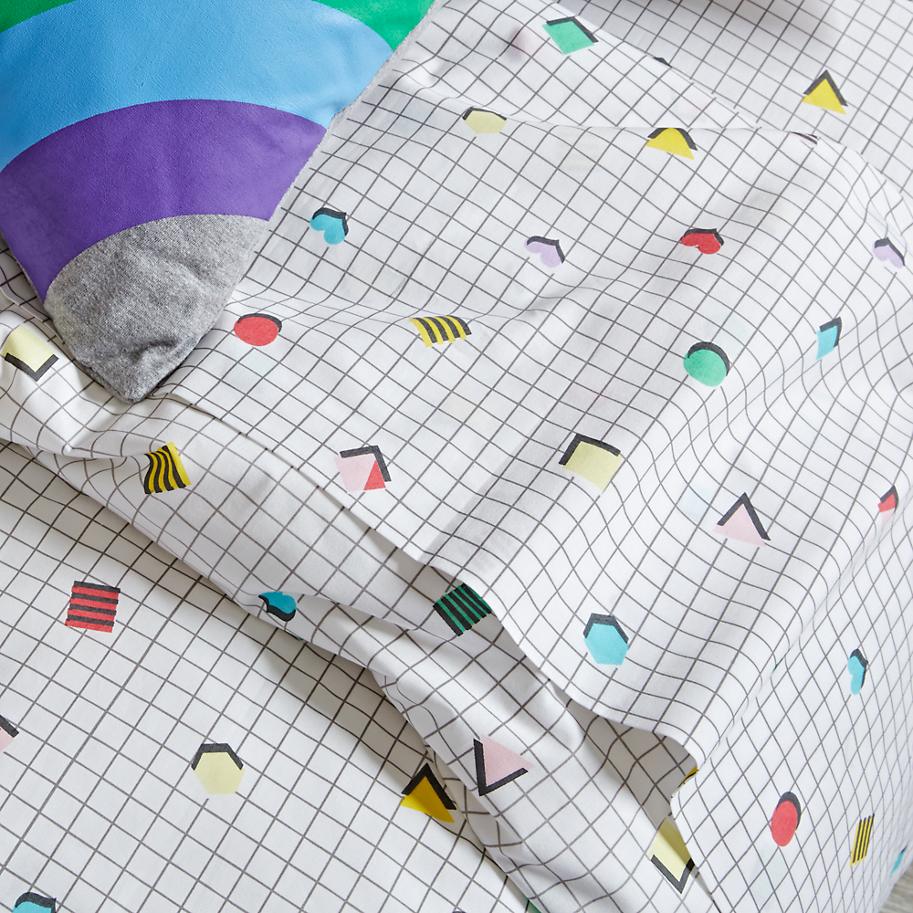 And if colors, lines and retro motifs make you smile, this  will be an uplifting addition to your spring bedding upgrade. The sheet set below features cotton percale and includes 1 flat sheet, 1 fitted sheet and 2 pillowcases (or 1 when you order the twin version):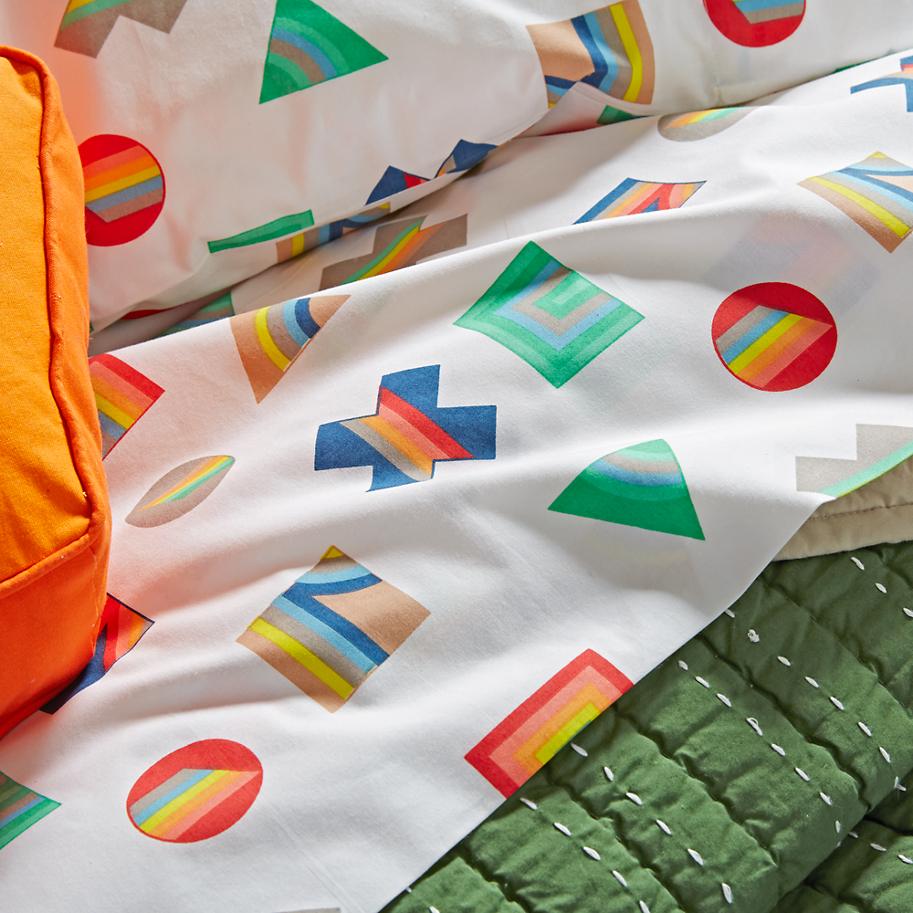 So many fun spring trends…it's hard to pick just one pattern! Maybe you could combine a few to create the ultimate bedding set. Happy shopping!
Liked the story? Share it with friends.