Looking for organic bedding? There are many reasons to go green in your sleeping space. Bedding made with chemical-free materials is healthier, not only because it is nontoxic, but because it is softer on your skin and breathes easier. Yes, there's a comfort factor. Plus, is kinder to the environment, as it cuts down on the use of chemical pesticides and fertilizers. Need another reason? How about style! The organic bedding sources below have beautifully merged green living with quality design… [Below: organic cotton linens from ]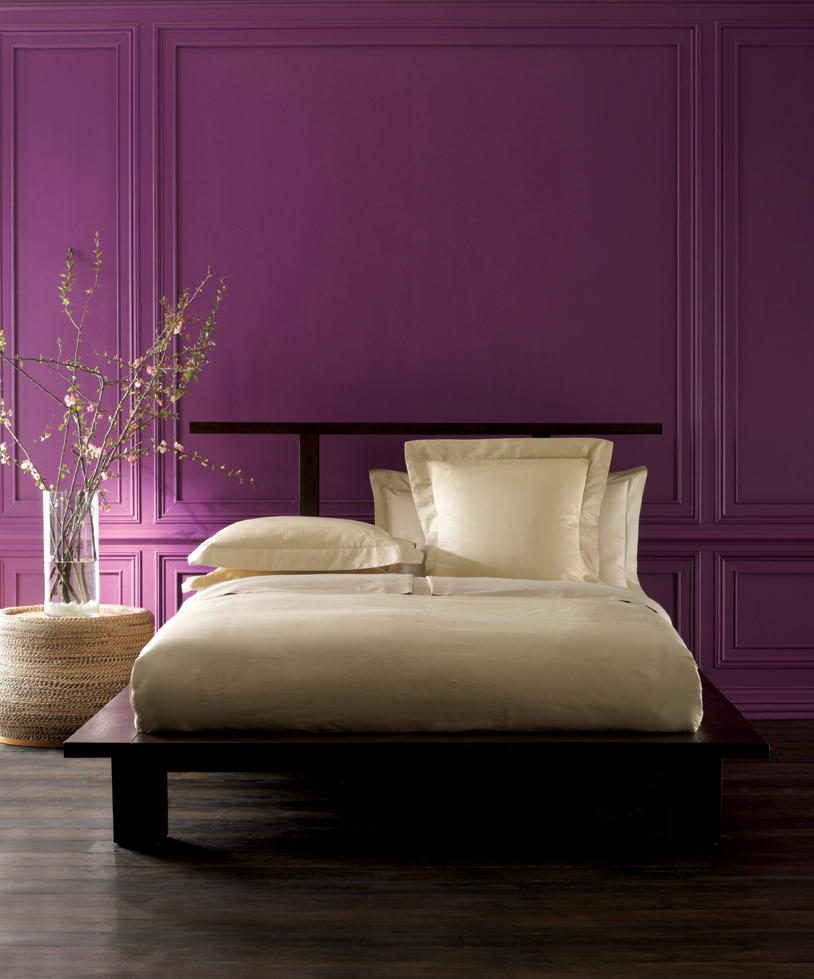 Anna Sova Home
It can be hard to find bedding that's vibrant and organic, as many companies stick to neutrals when it comes to eco-friendly options. That's why we're totally smitten with , which offers vividly colorful options, as well as crisp and neutral possibilities. Anna Sova linens are milled in Switzerland with 100% US organic Pima cotton, and they're finished in Italy with eco-safe cotton bleaching, dyeing and finishing processes. There are no toxic or petrochemical pesticides, dioxin bleaches and optical whiteners. The list of eco-friendly features goes on! And if you love a high thread count, you'll really love how quality meets organic style with unforgettable brilliance: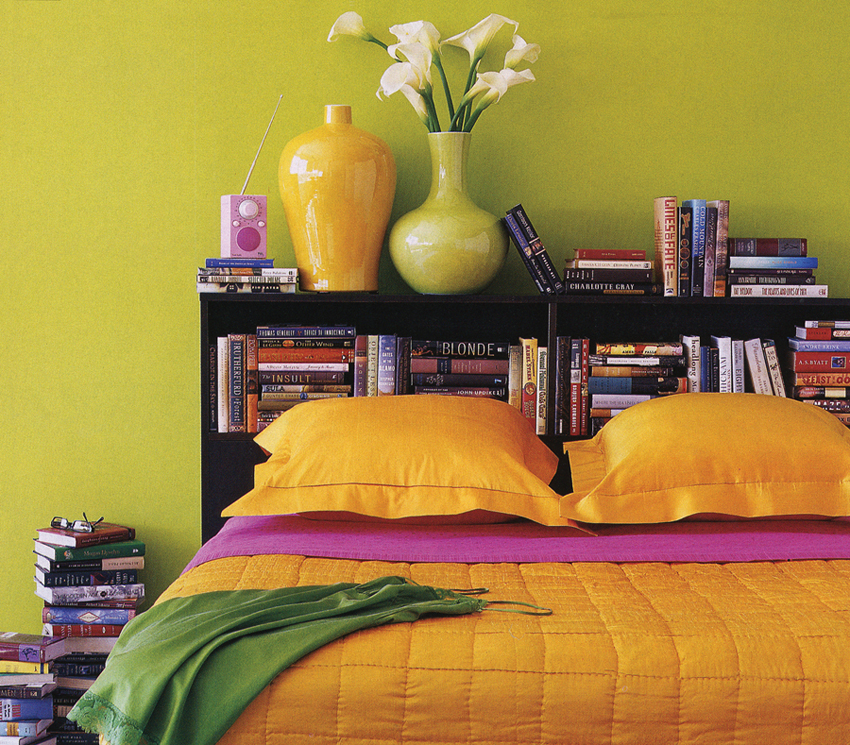 Loop
"Simply sophisticated, and pure." The design philosophy of  couldn't be clearer, and the look of this bedding couldn't be cleaner. If you're searching for a crisp, modern style that provides the ultimate in fresh, eco-friendly comfort, check out Loop's 300-thread-count bedding, such as the  and  shown below. This GOTS-certified bedding is available in shades of White and Sandstone: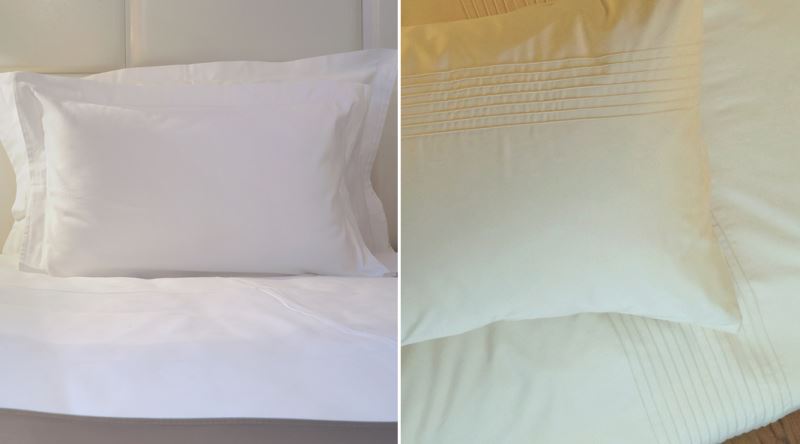 SOL
 (short for "sustained organic living") offers luxury sheets and pillow cases crafted from Fair Trade Certified fine long-staple organic cotton. Color offerings are kept simple in shades of white, ivory and blue. Only eco-friendly, low-impact, water-based dyes are used, and products are recyclable and biodegradable. Choose from plain, pleated and hemmed styles.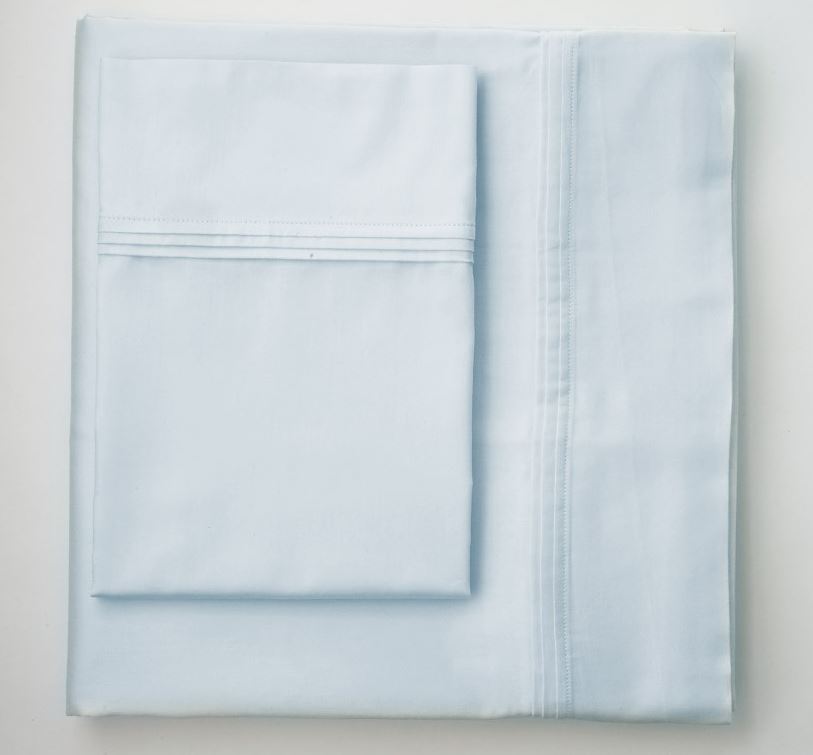 Boll & Branch
also offers organic bedding in neutral tones. Choose from sheet sets, duvet covers, pillowcases, pillow shams, bed skirts and more. The brand also sells bedding for babies (including patterned styles), so stock up on crib sheets and blankets! Products are 100%-certified organic, created with eco-friendly, non-toxic dyes and made in Certified Fair Trade factories in India. While most items are available in solid hues, there is a option that resembles the chic style of hotel bedding: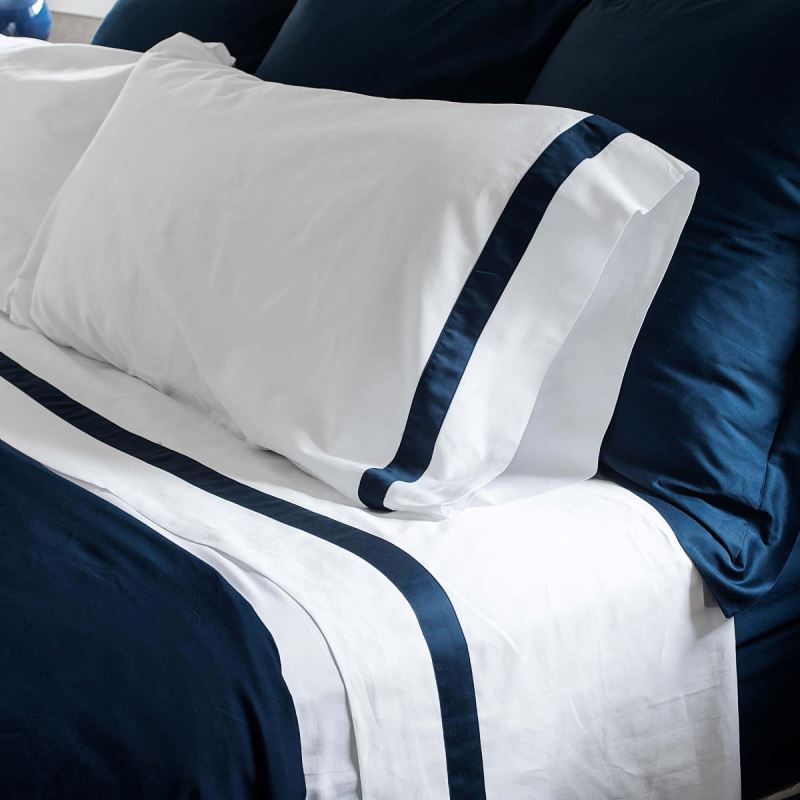 White Lotus Home
Ready to introduce a bit of pattern?  offers both patterned and solid duvet covers, as well as sheets and toppers. Many items are 100% USDA Certified Organic products, and bedding is available in both cotton and sateen. There's variety here, as options represent a great blend of colorful, neutral and patterned possibilities. [Below: a  in organic sateen printed fabric]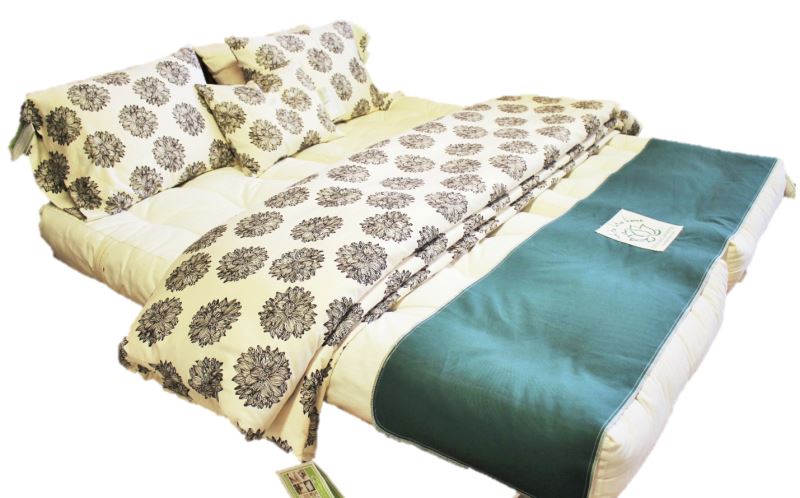 Coyuchi
One of the most beloved sources for organic bedding,  offers distinct variety, including high-quality options for those who love color and pattern. Contemporary designs meet true comfort, as only carefully sourced materials and natural fibers are used. Coyuchi adheres to the strictest of environmental standards, following guidelines set by entities such as the USDA National Organic Program, Global Organic Textile Standard (GOTS) and the International Labor Organization. Read more about the company's philosophy . [Below: the ]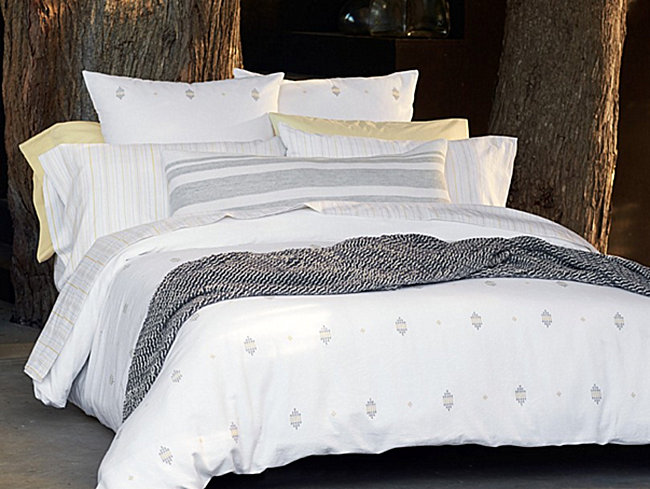 Plover Organic
 is committed to providing top-quality organic cotton. In fact, the cotton comes from non-genetically engineered seeds grown in soil that is free of pesticides, herbicides and other cytotoxins. Plus, Plover's organic fibers are certified according to the Global Organic Textile Standard (GOTS), and their dyeing process conforms to the American Organic Fiber Processing Standards (AOFPS) recognized by the OTA, as well as the Oeko-Tex 100 Standard and the Environmental Technology Advancement Directorate (ETAD) recognized in Europe. Yes, this is the real deal. And look at those patterns!…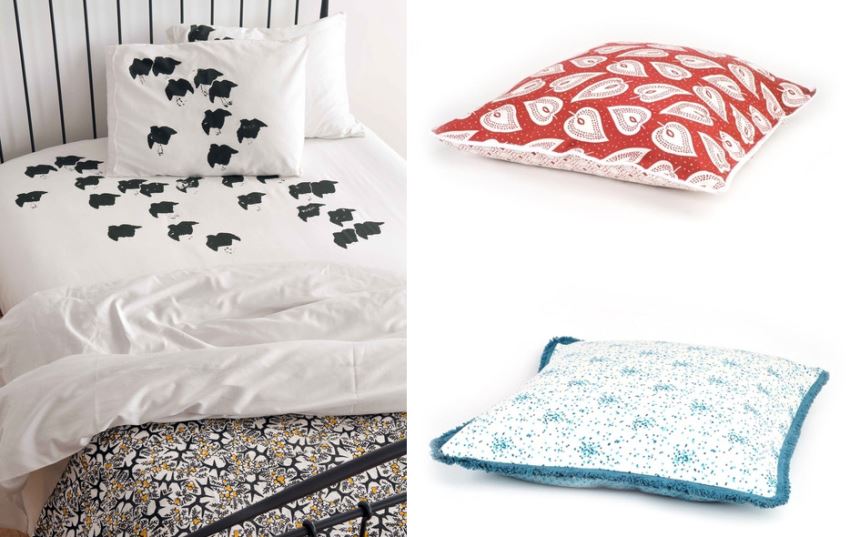 Inhabit
If you enjoy a bold pattern, check out , which focuses on a few quality, eye-catching designs featuring certified organic cotton (some are Oeko-Tex® 100 certified). Choose from modern duvets, quilts and woven bedding options in striking patterns that celebrate organic forms. [Below: ]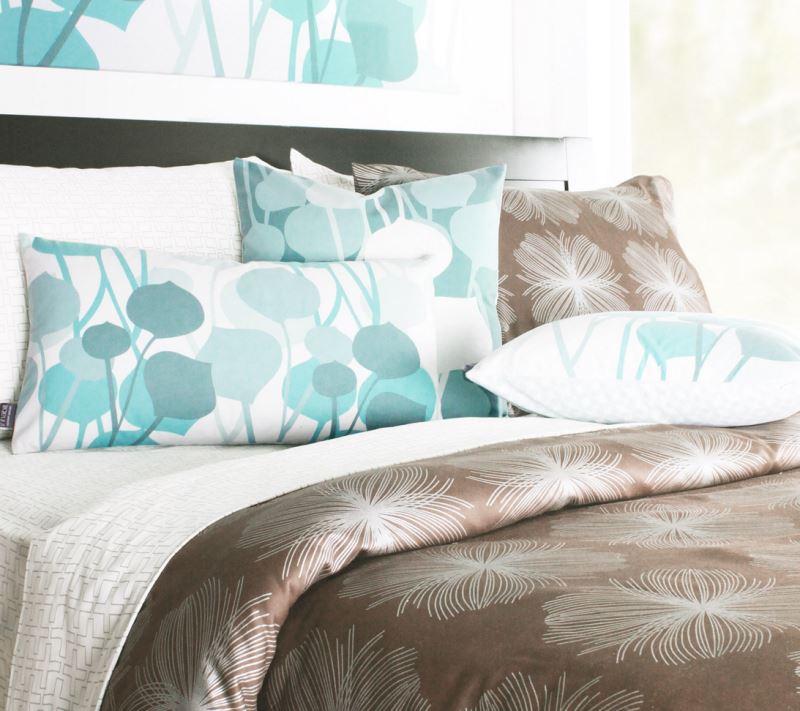 The Clean Bedroom
features a range of brands such as glo, Naturally Organic and Coyuchi. With the goal of helping consumers make informed decisions as they create a green sleeping space, The Clean Bedroom carefully curates quality organic brands to offer customers a range of top-notch products. Not to mention, the company's  is a wonderful resource, offering product reviews, links to industry research, sleeping tips and more. [Below: the ]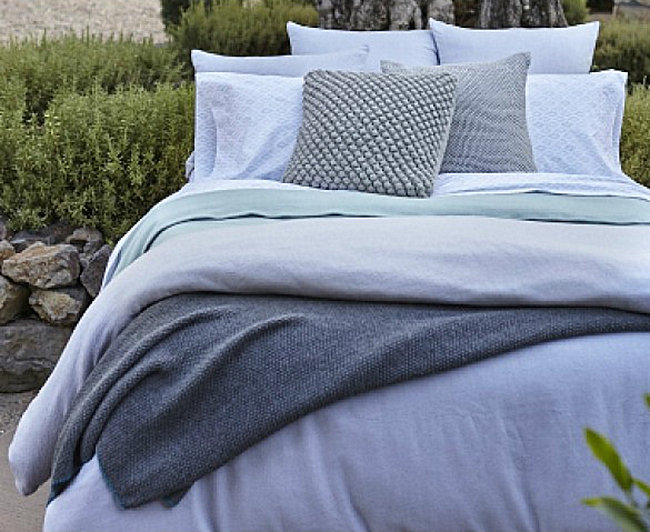 Etsy
 is an ever-growing source for organic bedding. Artisans and makers offer their wares through this online marketplace, and with the increasing interest in organic bedding, there are more than a few shops that specialize in eco-friendly sheets, shams and more. Below we see an organic sham from :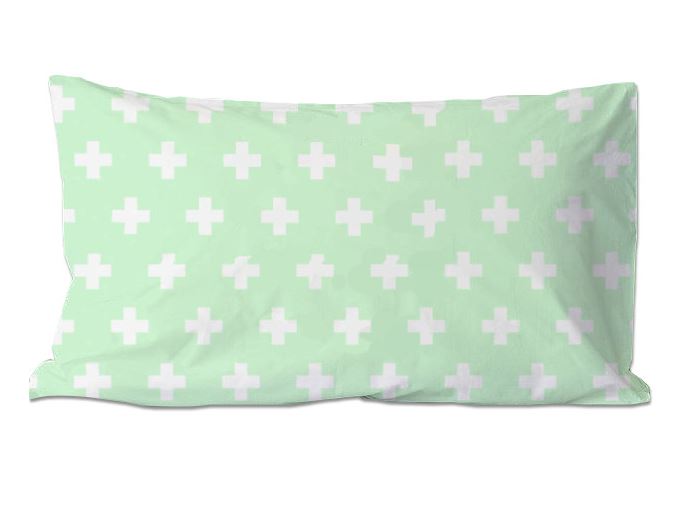 West Elm
We now move into mainstream brands that offer organic selections, such as , which features a wide range of Global Organic Textile Standard (GOTS)-certified cotton bedding items. Interesting patterns and soothing hues are two standout features of West Elm's organic bedding products. [Below: ]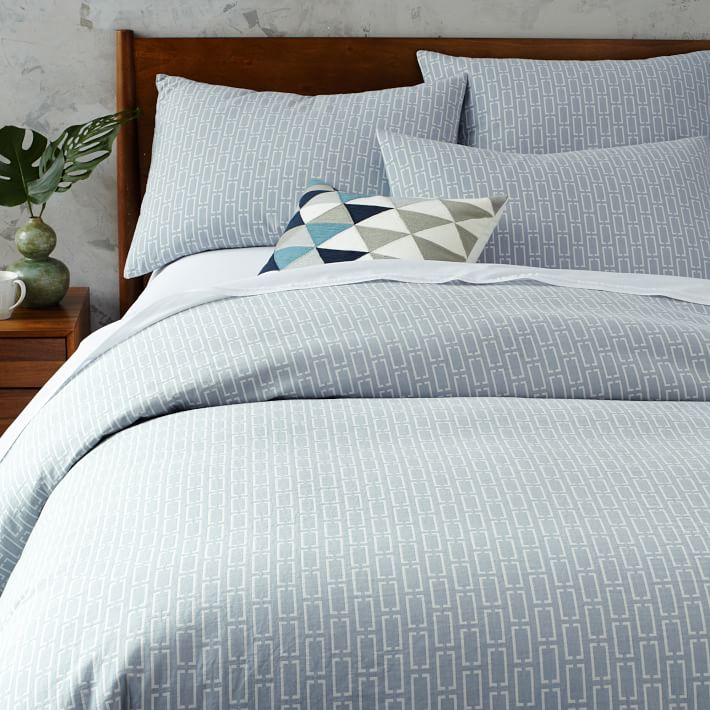 CB2
Not only do we love  for its wide array of affordable modern furniture, we love their selection of organic sheets! Offering sets that include a flat sheet, fitted sheet and two king cases, CB2 gives customers access to GOTS-certified 100% organic cotton bedding that's free from pesticides, chemicals and preservatives. Colors are in neutral tones, with the darkest hue being navy. [Below: ]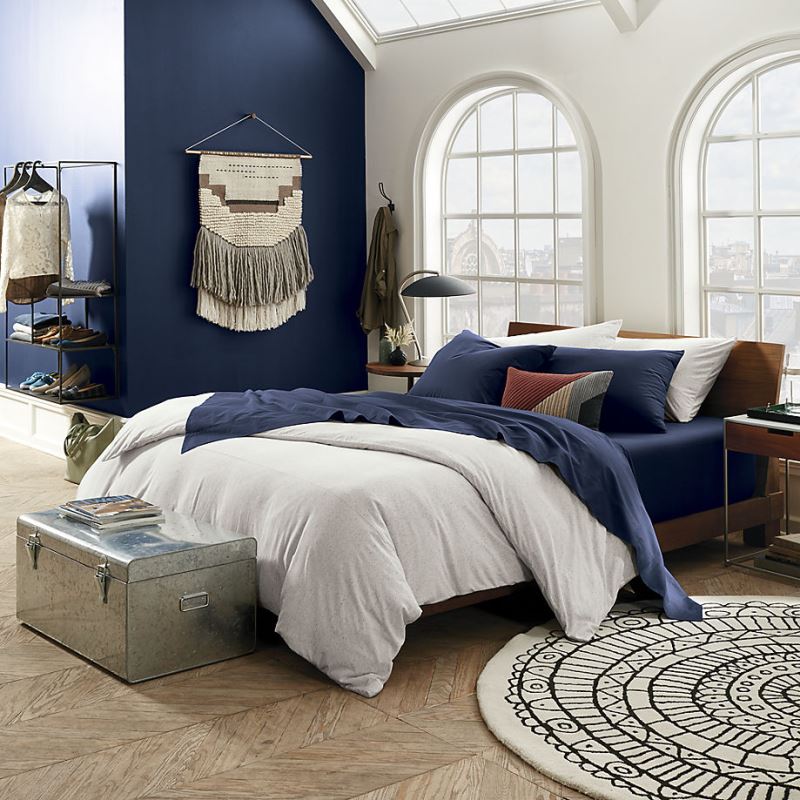 Anthropologie
 is renowned for its unique, beautifully designed products. Did you know that this company also sells organic sheet sets? Some of these sets are designed by Marc and Michelle Chase of Native Organics, who obtain their cotton from G.M.O.-free family farms and are wholeheartedly committed to fair trade and environmental protection. All organic sheet sets from Anthropologie are designed with quality and style in mind. [Below: the ]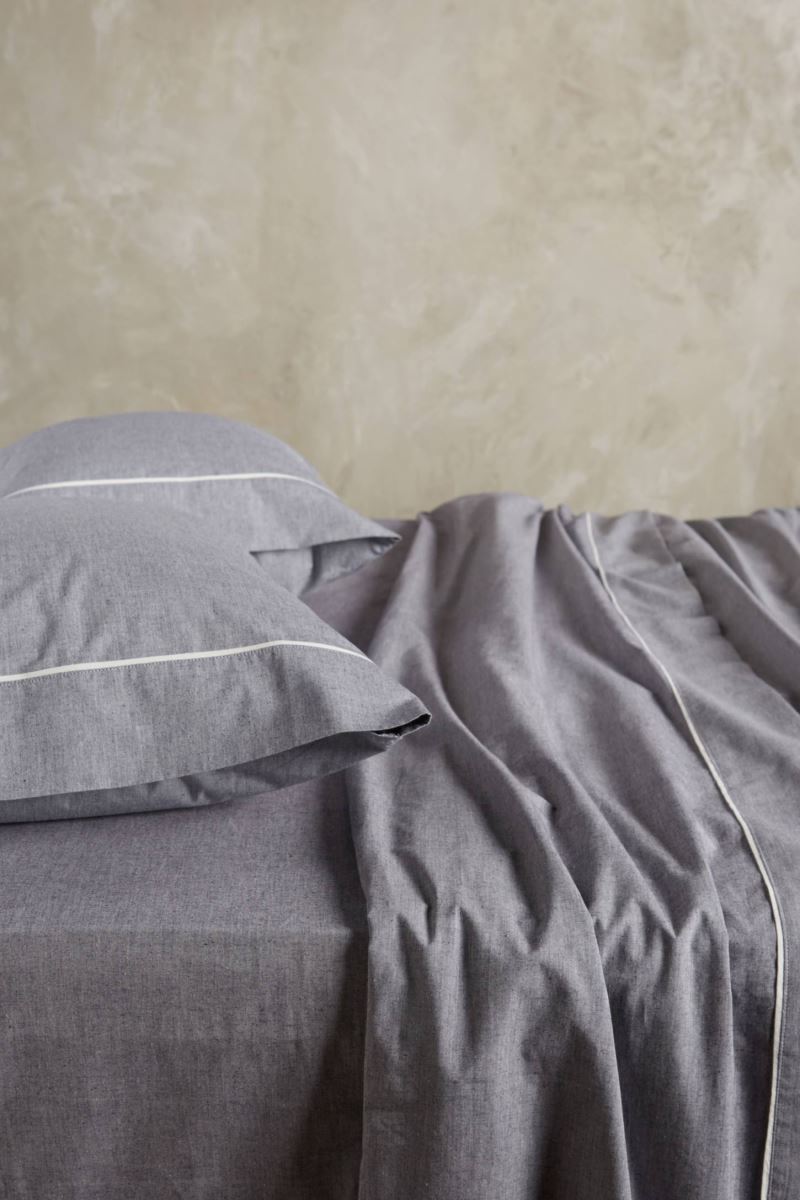 RH Baby & Child
If you want to offer your little one an eco-friendly sleeping space, check out  for a range of bedding options. For example, you can browse the , which is available in 5 colors. Plus, the  and  collections offer variety in pattern. Enjoy the quality craftsmanship and style that RH Baby & Child is known for, plus the comfort of knowing that your little one's bedding has Oeko-Tex® certification.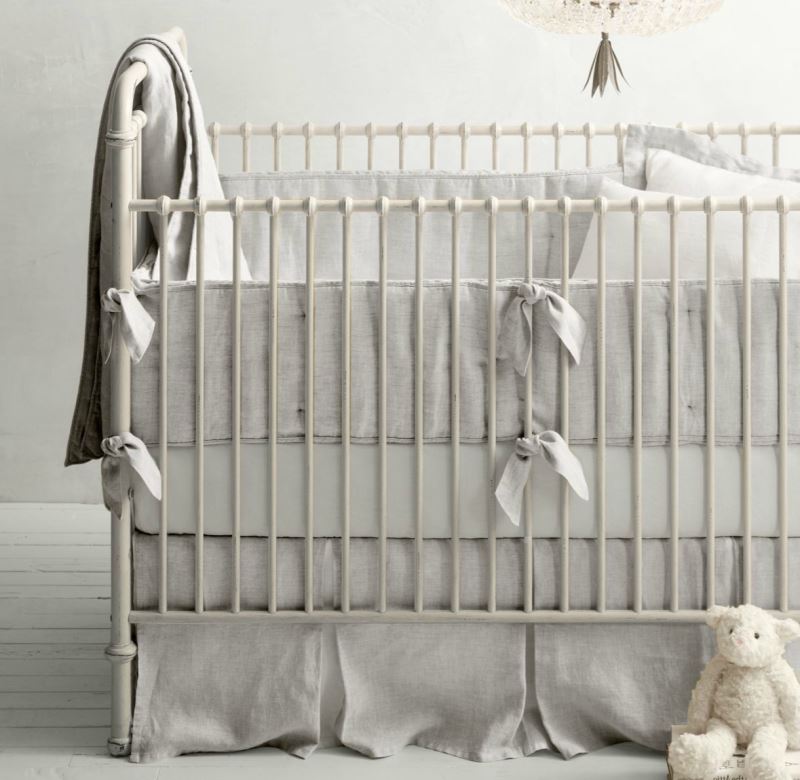 The Land of Nod
also offers organic bedding for kiddos, and the patterns are fresh, modern and soothing at the same time. Not only can you browse sheet sets and duvet covers, you can peruse changing pad covers, throw pillows and more. 100% organic cotton percale has never been so stylish! [Below: designed by Elizabeth Olwen for The Land of Nod]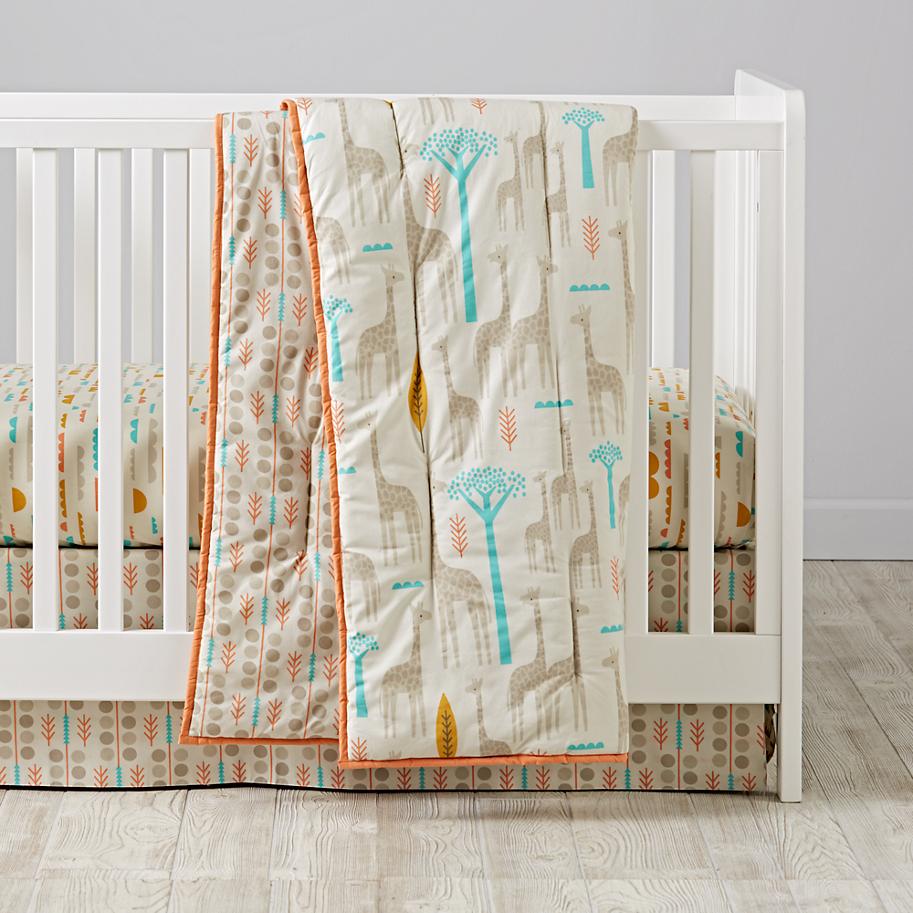 We hope today's post has been helpful, providing a range of organic bedding options for adults and children alike. Happy (green) shopping!
Liked the story? Share it with friends.