Running behind in your Thanksgiving preparations? Never fear–there's still time to plan a tasty meal and set a beautiful table! If you're searching for some Turkey Day table inspiration, check out today's round-up: a collection of 10 last-minute Thanksgiving table settings! We're not implying that recreating each table from scratch is a piece of cake. But you can definitely take a healthy share of ideas from the arrangements below and implement them as you see fit. And in some cases, a quick trip to the store is all that's needed to recreate the look. We at Lining-shop wish you a delightful Thanksgiving. Enjoy browsing the gorgeous table settings below…
Decadent Table Settings
Our first batch of featured table settings showcases a rich, layered look that celebrates opulent design. This gorgeous table designed by  was actually intended for a New Year's dinner, but we're loving the look for Thanksgiving. Undeniably modern, the vignette also boasts Asian flourishes and spot-on style that reflects the current gold revival! To recreate this look under a time constraint, anchor your table with a floral tablecloth, then top it with the blooms of your choice. Like Eddie Ross, we're partial to orchids…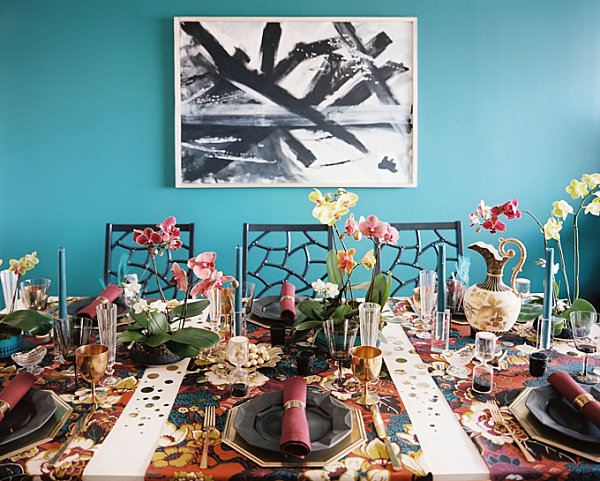 How fabulous is this table from ?! Stylist and florist Amanda Schelin of  created this rustic-meets-glam table with the help of bountiful blooms, fresh fruit, and plenty of glitter. To get this look at home, head to the florist or the market for some fresh flowers, then arrange them (a bit wildly) in the vases of your choice. Add some candlesticks and fresh fruit, and you're set! [image by ]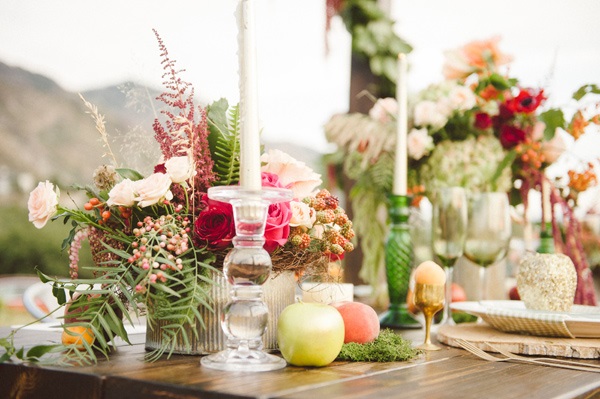 This next decadent approach to Thanksgiving table decor involves an unexpected ingredient–ice cream cones! They're the perfect receptacles for festive additions such as flowers, veggies, fruit and popcorn. Affordable and insanely creative, this centerpiece will complement a variety of table settings, from the neutral to the colorful. To get the look, create your own cornucopia with ice cream cones, a glue gun, and the helpful instructions (and video) found at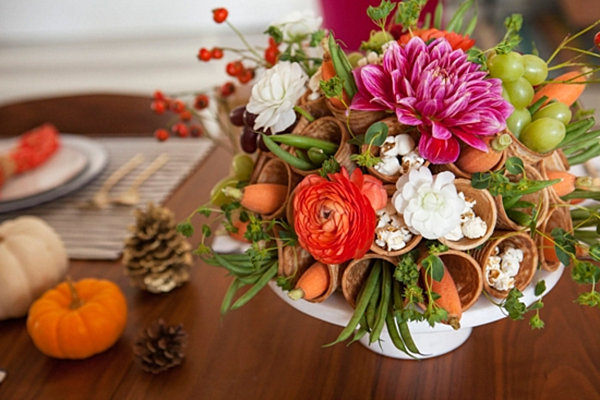 Glamorous Thanksgiving Tables
Ready to go glam?! Check out this Modern-Glam Thanksgiving from , designed by POISE Events founder Emmanuelle Accad. Inspired by a marbleized menu card (actually an invitation designed by Kelly Wearstler), this aubergine, blush and gold vignette features special details such as calla lilies and spiky napkin rings. As a bonus, there's a gorgeous cocktail area complete with gilded holiday martinis. To get this look, embrace the power of purple, then embellish the table with gold accents. Check out for purchasing information and details…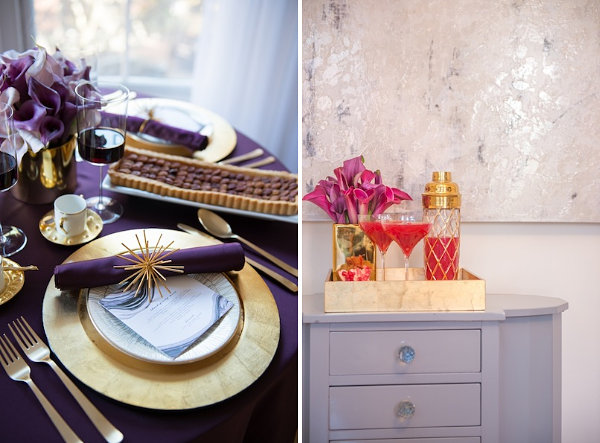 We're guessing that buying a glass or acrylic dining set is out of the question. But what you CAN take away from this next table is its clean, bold approach. Branches, candles and individual pumpkins create an inviting yet distinguished spread. And you can always buy some crystal candlesticks to complete this look at home… [from ]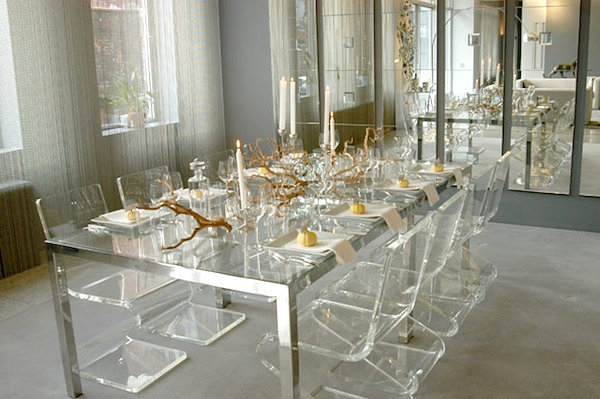 For a chic, elegant take on Thanksgiving style, layer shades of orange and top it all off with gold accents. Don't hesitate to pile on the citrus fruit and orange vegetation to get this look at home! [from Golden Gilt]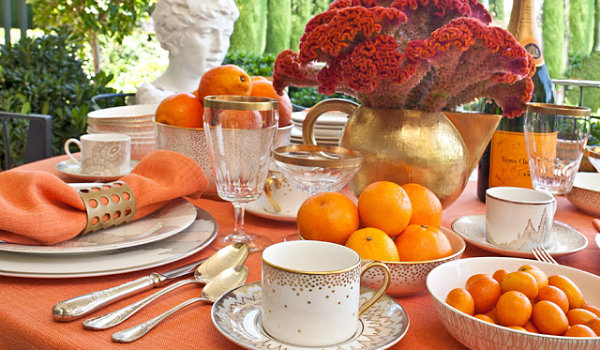 A large geometric vase filled with blooms makes a big impact. So does a DIY table runner cut from wrapping paper and embellished with glittering detail. It's all part of a chic Thanksgiving table design from  for . All you need is a large vase, the flowers of your choice, wrapping paper and a few craft supplies. Affordable and unforgettable!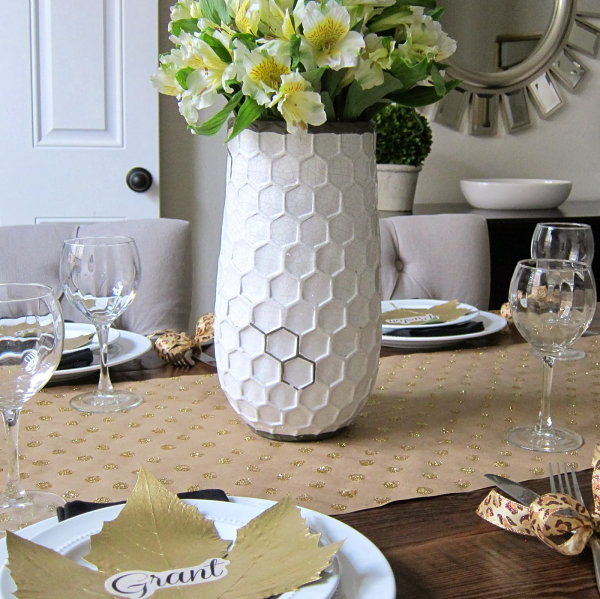 Rustic Thanksgiving Tables
Ah, the down-to-earth style of the rustic table… Wood, glass and cloth beautifully combine in a vignette that's laid back yet stunning. The table below from  is enhanced by a runner cut from butcher paper and embellished with painted designs. Colorful napkins are a beautiful contrast, and orange flowers tie the look together. To get this style for your Thanksgiving table, don't hesitate to use butcher paper for your runner–it obviously works beautifully! Choose napkins in a contrasting color, and top it all off with an eye-catching vase of flowers. Perfect for long tables and large gatherings… [image from ]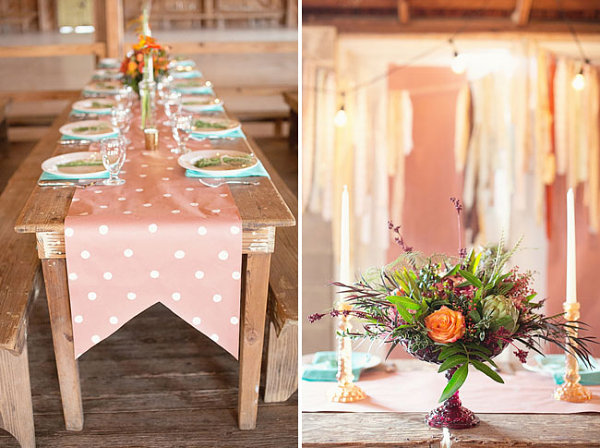 Got fruit? Then you're ready to create the look below, which features a line of produce that serves as a runner for this festive table. All you need is fruit! And a little imagination, of course. [from ]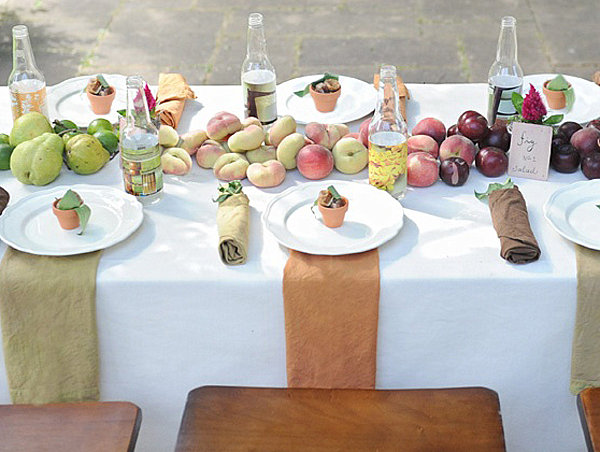 We end with a bold yet relaxed Friendsgiving table from . White and gold-painted pumpkins alternate across the center of the table, while blue and orange accents are a lovely contrast to the room's yellow chairs. A flower at each place setting personalizes this space. To get the look at home, paint a few pumpkins gold (and white if you can't find any white pumpkins to purchase). Incorporate the produce into a runner, then add vases of flowers to the vignette.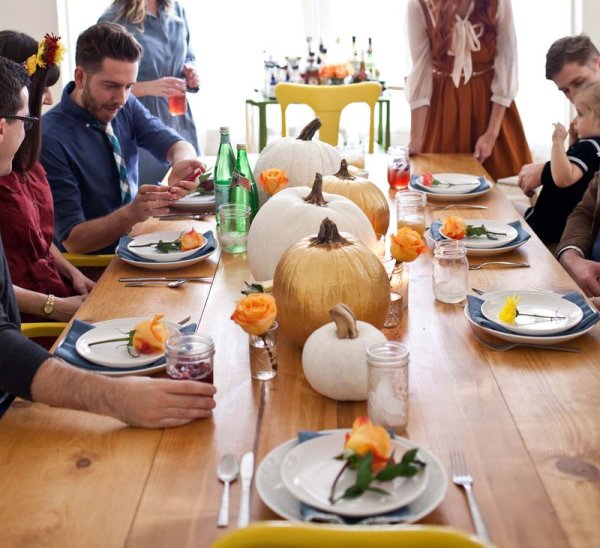 Glamorous. Eclectic. Rustic. Bountiful. What's your favorite Thanksgiving table style? Share your thoughts by leaving a comment below…
Liked the story? Share it with friends.